Convincing Your Partner It's Time For A Remodel
"Wouldn't replacing these cabinets make our kitchen feel so much more open?"
"The cabinets we have are just fine"
"They're 30 years old"
"They still hold our plates, don't they?"
If this sounds like a typical conversation between you and your partner or spouse, convincing them that a remodel is necessary may be a bigger obstacle than you originally envisioned. Here are three reasons why they may be hesitant, and some ideas on how to win them over and win yourself a newly designed interior.
1.) Your partner may not see the value in the remodel, or they might consider it too costly. Take this opportunity to compare the utility costs of your outdated appliances as opposed to new energy-efficient GE appliances such as range tops or ENERGY STAR qualified washers and dryers from MBS Interiors. Their tune might change when they realize that homes with ENERGY STAR qualified GE refrigerators sold in 2010 are 20% or 30% more energy efficient than non-qualified refrigerators and at least 40% more energy efficient than non-qualified refrigerators sold in 2001.
Anyone looking to purchase your home will appreciate the new (and matching) appliances that you bought as a package from MBS Interiors. Even if you never plan on selling your home, in the long-run the increased value of the house will be worth the money you spend on the simple addition of updated fixtures and appliances. For more information on this, stay tuned for an upcoming blog post about choosing the right appliance.
2.) Another reason why your partner may not want to re-model is because they think the whole process will be too dusty and loud. They might bring up the valid point that having construction done in your home while you're trying to live there will be too inconvenient. It's true, remodeling can take weeks or – depending on the size and scope of your project – months. However, as long as you're entering the process with an accurate idea of what to expect while remodeling, you'll know that all of the dust and noise is totally worth the beautifully completed end result. Plus, if you take the time to find the right contractor for your project, they should take care of properly covering any HVAC ducts to help keep most of the dust under control.
3.) It's possible that your spouse may not have the "eye for design" that you do. They may not be able to envision how impactful a few remodeling changes can make on the appearance and feel of your home. There are a couple of different ways you can remind them how beautiful the finished project will be.
You can encourage them to come with you to visit an MBS Interiors Showroom. There are 28 different locations in the Midwest area – all with helpful designers that can answer your questions and point you both in the right direction. After a few consultations with our designers, you'll walk away with perspective plans and samples that you can borrow to see how they look in your home. These helpful tools may give your partner a better understanding of what to expect from the finished product.
You can show your spouse our online photo gallery of Kitchen, Bathroom, Living Space, and Entertainment Area ideas. Or maybe they'd prefer to see real projects on Houzz that MBS Interiors has designed. They might have a clearer picture of the style you see in your mind after viewing actual finished homes like the one below.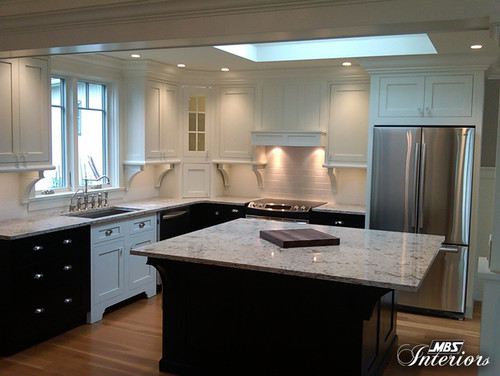 So, although convincing your partner that it's time for a remodel may not happen as instantly as you'd like it to, we hope these tips will help.
"What do you think, honey?"
"It feels so much more open in here! What else can we remodel?"